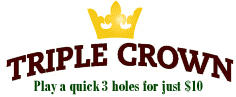 Don't have time for nine? How about a quick 3 holes?
Blissful Meadows "Triple Crown"
Monday through Friday, 6am-8am, or after 5:30pm, play 3 holes at Blissful Meadows Golf Club for just $10 walking, or $17 riding.
Now includes a small basket of practice balls!
6am-8am: Start on hole 17, proceed to the 15th hole, finish on hole 16.
After 5:30pm: Start on hole 1, proceed to hole 2, finish on hole 3.
Call 508-278-6110 for tee times.